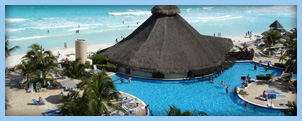 Cabo San Lucas Snorkeling & Diving Site
One of Cabo's most popular tourist activities, our snorkeling and dive sites for Cabo will get people out to the clear waters and the beautiful coral reef off the coast of the Baja peninsula.
Cancun Swimming with Dolphins
Every child's dream can become a reality with Cancun dolphin swims. Our new Cancun Swimming with Dolphins site will offer a variety of options for interacting with the famously intelligent marine mammals.
Puerto Vallarta Fishing Site
The west coast of Mexico offers some of the best fishing around. Our new Puerto Vallarta Fishing website brings together some of the best fishing captains and teams in Puerto. Private, shared, and party fishing trips are offered.
New Cabo San Lucas Fishing Site
One of the world's top vacation destinations, Cabo San Lucas also offers its visitors excellent fishing opportunities. Like our Key West fishing site, the new Cabo San Lucas Fishing will offer customers a wide selection of experienced and expert fishing captains.
Hawaii Diving Site
There is nothing that compares to diving in the Hawaii islands. This is one of the world's most diverse diving environments. Our new Hawaii Dive Site will offer visitors a comprehensive selection of diving tours and options for new divers to experienced ones.
Na Pali Coast Site
The Na Pali Coast is one of the most stunning natural landscapes in the world. The coast is the kind of thing you have to see in person to fully appreciate. The new Na Pali Coast website will give customers the information to get out to the coast via boat or plane.
Lanai Hawaii Site
While it is not one of the four main Hawaii islands, our Lanai Hawaii website will allow curious Hawaii visitors to explore this often forgotten and rural island just next to Maui.
Kauai Tour Site
The most naturally beautiful of the Hawaii islands, Kauai offers Hawaii visitors will all kinds of fun and informative eco-tours. The new Kauai tour site will focus on all things Kauai including helicopter tours, hiking tours and Na Pali Coast tours.
Big Island Volcano Site
The Hawaii islands are made up of massive volcanoes that raised above the sea many millennia ago. Big Island is made up of 5 of these volcanoes. Our new Volcano site will focus on the different hiking, helicopter and biking tours that take visitors up these fascinating volcanoes.